Special day for Murray and father
LEXINGTON, Ky. — The future face of Canadian basketball and his father sat at the podium in Memorial Coliseum on Friday, both sharing with the world a dream that has been 19 years in the making.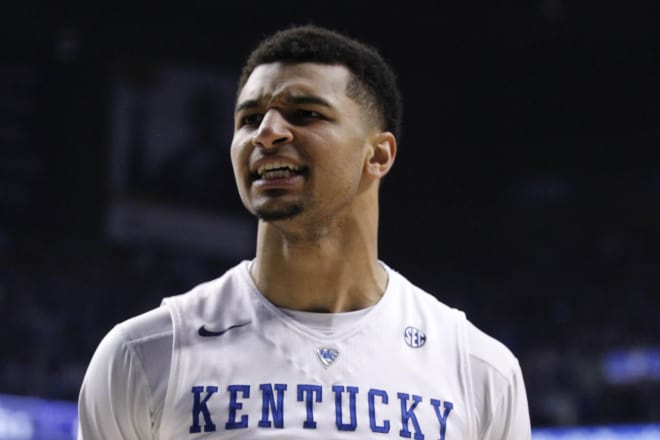 After a season that was as prolific as any in Kentucky history, Jamal Murray announced that he would become the 17th player under John Calipari to declare for the NBA Draft after spending one season in Lexington.
"I'm ready to take on this challenge of playing at the next level," Murray said. "I want to declare for the NBA Draft."
The decision was not surprising. Murray shattered nearly every freshman scoring record in program history, easily surpassing Brandon Knight as the all-time freshman single-season points leader with 720 points. He finished as a Third Team All-American and First Team All-SEC and is widely considered as a top 5-10 pick at the next level.
But what was shown most on Friday was the bond between father and son. Murray said he would have never made it to this point in his life without his dad, Roger, pushing him to be better every step of the way. Jamal remembers when Roger had him doing push-ups in the cold Kitchener, Ontario weather as a kid and spent hours putting up countless shots in the gym.
"As a young man coming up, it's been fun and it's been a challenge," Roger said. "It's been everything that you can imagine in trying to be the best you can be. He has sacrificed a lot. As a young man coming up, I told him when he was a kid if he listens to me, he will achieve his goals."
"He's gotten me to this spot and he's taught me everything I know," Jamal said of his dad. "I'm thankful to have him in my life and have him be my best friend, my mentor, my biggest critic and my biggest fan."
Roger said it's hard to put the bond the two share into words. Jamal posted a picture to his Twitter account holding a basketball as a kid, and it was in that moment when Roger knew his son was going to be special.
"I said it to his mom, 'One day, I'll use this picture and come back and show you what I meant," Roger said. "It's hard to describe the word love in the sense of a physical thing (but) when he held the ball in his hands, it was a physical, emotional, psychological love he had just looking at the ball. I knew with that kind of passion and that kind of energy, we could harness it properly, and that's what we did."
Murray harnessed it into becoming one of the elite scorers ever under Calipari. He finished the season averaging 20 points per game, which is the most for a freshman under the hall of fame coach.
"Jamal is one of the greatest kids," Calipari said. "The improvement he showed over the course of the season may be unmatched by anyone I've ever coached. He grew into a true winner and one of the most efficient scorers. What I love about Jamal is he's a great teammate who has a smile on his face every day. I'm going to really miss coaching him."
Despite the No. 1 class in the nation waiting in the wings for Kentucky, the Wildcats will surely miss Murray's scoring ability. Three times the freshman scored at least 30 points in a game, two of them coming in conference play. His offense was heavily relied upon, almost too much at times, as Murray's final game in blue ended with a miserable one of nine shooting performance from behind the arc against Indiana in the Second Round of the NCAA Tournament.
After the loss to the Hoosiers, Murray said he briefly considered returning to Kentucky because "you want to come back and you want to get revenge and play harder than you did before," but noted that leaving was the best decision for him and his family.
"My dad and I and my whole family, coaching staff and everyone back home just made the decision that I should go on to the Draft," Murray said.
Unlike many college basketball players, Murray said he rarely watches the NBA but knows that there will be several changes from playing in college. He arrived to Kentucky as a point guard but Tyler Ulis' role as the floor general led to Murray playing shooting guard. In the NBA however, Murray isn't ruling out being a point guard once again.
"It depends what team and what organization I go to," Murray said. "I don't know much about it, but I'm gonna keep on playing both. I played point guard for all my life then came here and played two guard, played different positions on defense so I'm versatile."
The NBA Draft is still a few months away, but Roger knows the son he helped mold into one of college basketball's elite players still has his sights set much higher.
"He wants to be the best player that ever lived, and that's the path he's on."
You can follow Cats Illustrated reporter Derek Terry on Twitter @DTerryRivals.